Lawful interception system TNC
LAWFUL INTERCEPTION SYSTEM TNC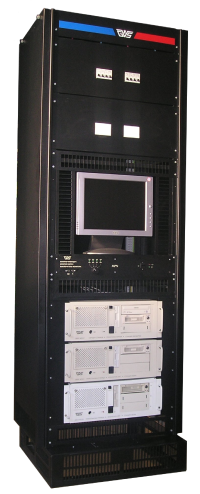 Lawful interception system or system for authorized electronic monitoring enables interception of communications in the network, leaving the interception subject and his correspondents, network operators, service providers and access providers unaware that the interception is taking place.
TNC enables handover, acquisition and recording of interception results, and also their presentation in the form suitable for the current phase of investigation or law enforcement procedure.
Features
Full monitoring - call contents and interception related information IRI
Statistical monitoring - interception related info only
Complies to relevant international standards and recommendations ITU-T, ETSI, ISO, IEC ...
Paralel operation upto 8 independent services or agencies authorized to perform lawful interception
Standard, generaly available input/output units and data formats
Electrical characteristics per ITU-T Q and G series
High reliability and immunity to external influences
Built-in self-check and diagnostic functions
Modular internal construction enables easy expansion or reconfiguring
Applications
Lawful interception in fixed public switched telephone network
Lawful interception in mobile telephone network
Lawful interception in special / private / closed network
Law Enforcement Monitoring Facility LEMFas defined in ETSI recommendations
Benefits
Supports proprietary architectures and specifications not compatible with ETSI standards
Technically unlimited number of targets
High level of data protection, both collected and processed data, and high level of system protection
Simultaneous independent interception of the same communication by several services or agencies
Advanced processing of interception results through integration of third-party tools
Fully software programmable intefaces
Advanced and user-friendly Graphic User Interface simplifies operator work
Open TNC architecture is suitable for heterogeneous network that contains ETSI compatible exchanges, SRCE exchanges and ETSI incompatible exchanges. Integrated TNC architecture enables handover of call contents and interception related information over the same transmission media.
Lawful interception system TNC is a state-of-the-art, highly professional system, featuring exceptional electrical characteristics, user-friendly concept and high reliability. Thanks to many adjustable and programmable features, TNC easily copes with customer special requests.
System TNC is designed for international market and is available in english, russian and serbian language versions.
Along with other GVS products, like switching systems, uninterruptable power supply systems, test & measurement equipment and others, TNC offers a complete, well composed solution and forms a one-stop-shop for all telecom equipment for your telecom network node.
Technical data
Network intefaces
Compliance
ITU-T G.703 E1
Bitrate
2048 kbps ±50 ppm
Impedance
120 Omega, twisted pair / 75 Omega, coax.
Overvoltage protection
ITU-T K.41
SS7 level 2/3
MTP Q.701 - Q.709
SS7 level 4
ISUP Q.761 - Q.764
DSS1 signaling
ITU-T Q.93x
Data transmission
100BT, TCP/IP
HI interface
ETSI ES 201 671
User interfaces
Analog telephone
Z, Q.55x, 64 kb/s
Analog line
Z
inv
, Q.55x, 64 kb/s
Overvoltage protection
ITU-T K.20
System intefaces
Operation & maintenance
LAN, 100BaseT
Input/output units
FDD, CD, DVD
Alarm panel
RS-232, RS-485
Power supply
48 V,
A
- ETSI ETS 300 132-2
Optional power supply
220/230 V
ac
Capacity
Acquisition channels
480 @ 1 E 16 x E1
Call contents
Interception
with or without call release
Handover
HI3, ETSI ES 201 671
Acquisition
added/quasi stereo
Monitoring
real-time or VoIP
Forwarding
PCM 64 kbps or VoIP
Audio delay
< 250 sfmusec
Recording
PCM16, PCM8, A/ mu, FLAC
Basic processing
integrated
Interception related information
Handover
signaling channel
Handover format
HI2, ETSI ES 201 671
Data acquisition
correlating
Forwarding
e-mail, SMS, IM
Recording
ISO/IEC 26300, XML, ODBC
Statistical processing
integrated
Functions
Compliance
ETSI TS 101 331
Administration
HI1, ETSI ES 201 671
Intercept admin.
single or group
User administration
operators, permissions
Results presentation
integrated
Advanced processing
external tools
Results exporting
generic/processed
Export format
ISO/IEC 26300, MP3, PDF
Synchronization
Functionality
ITU-T G.823, Q.541
Clock absolute accuracy
2x10
-10
Temperature stability
10
-10
Electrical characteristics
Audio transmission
G.712, G.507
Attenuation
7 dB -0,3 +0,7 @ 1020 Hz
Non-linear distorsion
±0,5dB -55 +3dB
mo
Crossover attenuation
>73dB @1020Hz
Psophometric noise
< -72 dB
m
400 pW
Non-psoph. noise
< -40 dB
m
100 000 pW
Intermodulation
<-41dB
m0
@ 900/1020Hz
Overload point
3,14 dB
m0
@ 1000Hz
EM compatibility
ETSI EN 300 386
General data
Temperature range
0
o
C to 40
o
C
Storage temperature
-20
o
C to 60
o
C
Relative humidity
0 to 90 %
Cabinet dimensions
23", 2,15 m
Acoustic noise
ETSI ETS 300 753
Documentation
CEPT T/CS 01-10E
Reliability and maintenance
Spare parts & repair
10 years
Fault detection
automatic, 50-200 msec
Documentation
| Document Title | Pages | Format | Size |
| --- | --- | --- | --- |
| TNC System Fact Sheet | 2 | PDF | 521 K |