UNINTERRUPTABLE POWER SUPPLY SYSTEM S3000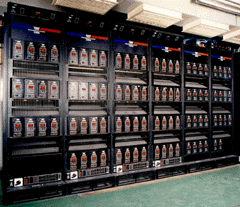 Uninterruptable power supply system S3000 is designed to provide high quality power to telephone exchanges and other telecom devices, where low disturbances, low noise and short response time are mandatory. S3000 system is designed for 24 hours autonomous operation, enabling the application in remote locations without crew. May operate with or without batteries, with or without diesel generator or other auxiliary power source.
Uninterruptable power supply system S3000 is manufactured for 48V, 60V, 24V and 110V output voltage versions. Covers 1 kW to 150 kW output power range. Upon customer request other output voltages are available.
S3000 is easy to expand or modify "`on line"', no need to interrupt system operation or in any way endanger the basic functions of the system.
Features
Sixth generation power supply system since 1988
Large capacity: upto 3000 А / 170 kW
4 output voltage options: 48 V, 60 V, 24 V, 110 V
Modular, upto 120 rectifier units 1400 W each
Redundancy N+1, N+2 or N+P
Built-in battery overdischarge protection
Fulfils relevant international standards and recommendations: ITU-T, ETSI, ISO, IEC ...
Power factor corrected > 0,98
2 battery ports
Low psophometric noise < 1 mV
Temperature compensated output voltage
High efficiency
High reliability
Does not require preventive maintenance
Applications
Uninterruptable power supply of telecom equipment
Accu-batteries maintenance
Uninterruptable power supply of computer and other proffesional electronic equipment
Replacement of old uninterruptable power supply systems
Benefits
Same rectifier units for small and large capacity - simplified maintenance
Extremely robust, resistant to harsh working conditions
2 large LED displays + alphanumeric LCD
Fully "`plug-in"' rectifier units replacement
Extended input voltage range available on request
Natural convection cooled
User friendly, built in 16-keys keyboard
Mains voltage measurement option available
LED display on each rectifier unit
Integrates with SRCE TC-011 telephone exchange
Exceptional resistance to mains voltage disturbances and high reliability make S3000 system an ideal solution for operation in harsh conditions, like rural areas. If You have a site where other power supply systems fail, S3000 is the right system for You.
Power supply system S3000 is modern, highly professional system, featuring exceptional electrical characteristics, simple handling and high reliability. Thanks to many adjustable and programable features, easily copes with customer special requests.
Power supply system S3000 is designed for international market and is available in english, russian and serbian language versions.
Together with other GVS products, like switching systems, test & measurement equipment and other, S3000 system offers complete, well composed solution and forms one-stop-shop for all telecom equipment for your telecom network node.
Technical data
Input data
Mains voltage V i 220/230 V ac
Mains voltage range
-15 % .. +10 %
Input current
7 A @ V
nom
Power factor cos φ
> 0,98
Input fuse per unit
10A fast
Output voltage
Floating voltage
2,1-2,3V/cell
Charging voltage
2,2-2,4V/cell
Voltage regulation
better than 1 %
Psophometric noise
< 1 mV
ac
Noise 10Hz-450kHz
< 25 mV
Wideband noise
< 10 mV
ac
/MHz
System configurations
Configuration

S1

S2

S3

nS3

UM

Rectifier units

4

8

16

120

pcs

Output power

5,5

11

22

170

kW

Dimensions w x d x h

64х50х45

66х62х136

66х62х209

530х62х209

cm

"Empty" / "full" system total weight

40/80

115/195

195/355

1540/2740

kg

Battery fuses high efficiency

2 upto 125

2 upto 250

2 upto 400

n upto 630

Adc

Load fuses

2x125,6x10

8x125

4x250,4x125

n upto 630

Adc
Batteries
Feature

48V

60V

24V

110V

Total cells per battery

23 / 24

28/29/30

11 / 12

53/54/55

Floating voltage

48,3..55,2

58,8..69

23,1..27,6

111,3..126,5

Charging voltage

50,6..57,6

61,6..72

24,2..28,8

116,6..132

Overdischarge treshold

39,1..45,6

47,6..57

18,7..22,8

90,1..104,5
Output current
| | | | | | |
| --- | --- | --- | --- | --- | --- |
| Var. | 48V | 60V | 24V | 110V | UM |
| S1 | 100 | 80 | 200 | 44 | A- |
| S2 | 200 | 160 | 400 | 88 | A- |
| S3 | 400 | 320 | 800 | 176 | A- |
| nS3 | 3000 | 2400 | 3000 | 1320 | A- |
General data
Operation & maintenance
RS232, RS485
Temperature range
0
o
C .. 40
o
C
Storage temperature
-10
o
C .. 70
o
C
Relative humidity
0 .. 90 %
Measure/display accuracy
±1 % , ±0,5 %
Documentation
| Document Title | Format | Size | Pages |
| --- | --- | --- | --- |
| System S3000 Fact Sheet | PDF | 950 K | 2 |
| User documentation for I1400T48V rectifier units version 4 | PDF | 930 K | 48 |
| User documentation for switching power supply system S3000-S1A version 4 | PDF | 829 K | 76 |
| User documentation for switching power supply system S3000-S2A version 4 | PDF | 955 K | 75 |